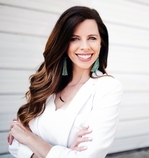 (256) 312-5665

(256) 312-5665 cell phone

laurenm@lahrealestate.com
1760 Oxmoor Rd.
Homewood AL, 35209
Receive Email Alerts from Me
I have always had a passion for homes and the real estate industry. I have over 7 years of experience as an Interior Designer and I was blessed for 5 of those years to work for Twin Construction. In the residential construction industry, I learned the fundamentals of building and renovating custom homes, as well as what everyone in Birmingham is looking for in their dream home! I also have gained experience from buying and renovating my own personal fixer-uppers in Crestwood. As your real estate agent I am prepared to use my passions and experience to make your dream home a reality.
I grew up in Alabama and earned my degree in Interior Design from The University of Alabama and then went on to obtain my masters in Historic Preservation from the University of Georgia. After grad school I moved to Birmingham where I have fallen in love with the city and all it has to offer. I am proud to call it home now as I have settled here with my husband and two rescue pups. I also love being a part of the Birmingham community especially as a volunteer for the Greater Birmingham Humane Society where I am also a member of the Young Professional Board.
I appreciate what it feels like to be a confused first time homebuyer and I am ready to help make my clients' home-buying process as seamless as possible!
I can't wait to meet you and help you find your dream home!
Follow me to see what is going on in the real estate world & for design inspiration
@lauren.murphy.design
@laurenmurphydesign
laurenmichellemurphy.com
Testimonials
Lauren was very helpful as my agent. This was my first time buying a house and Lauren could not of made the process any easier or more enjoyable than it was. She always had my best interest in every decision that was made.
Ricky T.
Lauren was suggested by a friend to help us find a home to rent. We weren't quite in the market to buy yet. She went above and beyond to find some listings that fit our needs and budget. She even did some hunting / videoing for us since we were out of state! Lauren was such a tremendous help and is such a kind person! We will definitely trust her expertise in the future when we're ready to buy a home! I highly recommend her!
Erin & Andrew F.
My name is Kelsey Benedetto and Lauren Murphy just helped us purchase a home here in Alabama. This was no easy task for her as my husband, Nick, had just recently accepted a football coaching job at Samford and moved here 2 months before our kids and I from South Dakota. While he was here and I was still in SD with our kids, Lauren and my husband facetimed me for every viewing which definitely took a little bit more time than most viewings. Because of his meetings and practices, Lauren took the time to be sure she was available for viewings when he was done with work for the day. She went above and beyond my expectations of a realtor. She was kind and gave us great recommendations on things she noticed that we didn't. Lauren also helped set up estimates for paint, interior and exterior, lawn care, pest control, everything. We had some issues with our walk thru and she absolutely made sure it was better before we closed which we appreciated. Lauren did an exceptional job and I couldn't be more appreciative of her. The first time I saw the house in person, was the day of closing at our walk thru! It was definitely a different experience for her, I'm sure, but she did it with ease!  Thank you again Lauren!
Kelsey & Nick B.
We are so thankful for Lauren and the role she played in landing the house we fell in love with! She made our buying experience absolutely seamless. From beginning to end, we felt like her only priority. She was always available to show us properties at a moment's notice, knew what questions to ask listing agents on our behalf, and truly advocated for us. When we found "the one", she fought for us as we were up against multiple offers. (WE GOT IT!) Once we had a contract, she always seemed to be 2 steps ahead in preparing all the paperwork needed to close. She even surprised us with a very thoughtful housewarming gift. If you want an agent who will hustle and has tremendous attention to detail, you found her.
Crystal & Drew T.
Lauren Murphy was an absolute pleasure to work with. She immediately put me at ease and knew how to ask the right questions to figure out exactly what kind of home I was looking for. Lauren made sure I had all the most up-to-date listings and helped me stay ahead in a competitive market. She is dependable, prompt and responsive to all questions and concerns I've had. I look forward to working with Lauren again when I search for my forever home!
Angela S.
Lauren Murphy 's Listings